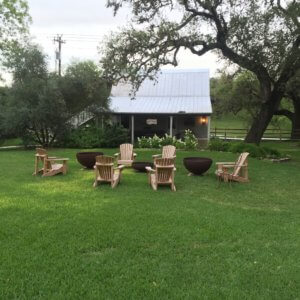 Here's the address for Round Top Inn. You can search for it through your maps app on your phone for directions from your specific location or follow these general directions to the town of Round Top.
Round Top Inn
407 S. WHITE ST.
Round Top, Texas 78954
FROM AUSTIN, TX via 71: Take 71 to La Grange. Exit at highway 159. Go left under 71, and head north on 159. Just past Oldenburg, 159 will meet 237. Continue heading straight on 237 (159 turns right to go to Fayetteville). Proceed north about 9 miles to Round Top.
FROM AUSTIN, TX via 290: Come out 290 towards Houston. After you pass Ledbetter, you'll see a sign for Round Top Road (the road before it is Deer Haven Road). Turn right and follow the road into Round Top.
FROM HOUSTON, TX: Take 290 towards Austin. After you pass Burton (about 12 miles west of Brenham), exit on highway 237. This is a left-hand exit. It is marked La Grange/Round Top. Head south on 237 about 8 miles to Round Top.
We can give you more travel assistance if you'd like – Just email us, and we'll do our best to answer your questions.
Barb
Barb@ViviMagoo.com
Erin
Erin@ViviMagoo.com